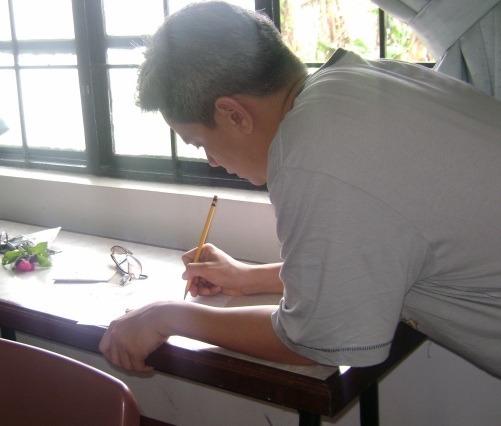 Philosophy of Teaching
My philosophy is to attain a desire that the students themselves should be responsible for their own learning. The goal of attaining this desire is to provide learner-centered activities and make it as an important part of the customary experiences of a teaching-learning situation rather than top-down strategies such as lecture-discussion and paper-pencil assessment methods. My aim is to develop independent learners by building motivation and placing a premium on individual differences. Students being challenge and being engage into meaningful work that make sense of their experiences I believe, will value these.
Transforming traditional method in terms of instructional strategies and an understanding of the learners' culture are highly essential. Setting up a condition for students to be actively involved in their learning process requires support from all school personnel and takes time. The focus, however, should be of the nature of learning and thinking by making use of their prior knowledge, the kind of environment that they are in and certain strategies should be considered. Tapping their beliefs, interests and personal choices should be a part of my motivation rather than being coerced to do what the mentor wishes.
Provision of an appropriate activities and non-traditional teaching strategies such as creative writing, cooperative learning, concept mapping etc. will provide a distinction amongst students of participating in their learning and will come up with a positive results. Activities that will be developed should include real-world tasks and could be integrated to other subject matters. Students must understand how their thoughts affect how well they will learn and they should assess their learning progress.
Finally, in terms of instructions, practices should present information in multiple ways; an option for the students to develop special talents like their artistic, musical, physical and social skills and to encourage students a choice of either an independent or group learning.

For me Educational leadership is the ability to continuously influence people to believe and behave to a shared vision in reaching for high achievement of every child.
It is a supportive leadership that creates an environment where people are openly inquiring for results of their work with honesty and without fear of being blamed or judged. Educational leadership is an intellectual and moral leadership that understands the need of the community as a whole as the individuality of its members, their traditions and cultures. It is leadership that is initiated by a leader who sets off changes and challenges, someone who is not afraid to take risks, someone who is not afraid to fail or admit failure. Leadership that does not just impose goals to school staff but works with others that will create a shared sense of purpose and direction and eventually develop views that imbibe the best judgment about teaching and learning.
Finally as Peter Drucker says "Management is doing things right; Leadership is doing the right thing." I believe that leadership requires a lot of time to continuously improve oneself, being pro-active and possesses a win-win attitude. As a teacher we must first be a leader, second a manager. As leaders we must have the vision to determine what is right and relevant, to recognize the appropriate resources to utilize, to set standards, and manage school environment with a proper tone. As leaders we are responsible towards our own actions of how to touch the lives of our students.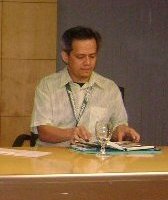 A Filipino Teacher for me is...
In my many years of interaction and collaboration with my fellow Filipino teachers, they have shown me three important qualities that make them educational leaders. A Filipino teacher is highly adaptable, s/he is capable to shift paradigm in teaching to become an excellent and effective mentor to the student s/he are with. If presented and trained properly with this new paradigm s/he is capable of delivering the new concepts above and even beyond the standards expected of him/her.
A Filipino teacher is patient. No matter how rowdy a student /class is s/he has his/her own classroom management style that seeks first to understand the reason of such disruption. And his/her mastery of the subject and knowledge in educational psychology he is able to come up with strategies that students will find meaningful and will be willing to listen and learn from him/her. This positive attitude is always expected by students from a teacher. As an employee of a school, a Filipino teacher can handle various challenges that are given to him/her and like wise such expectations requires a consolidation of outcomes that s/he him/herself should gain learning and experience from such to achieve efficiency in the profession.
Lastly, a Filipino teacher is committed to his values. S/he will walk the extra mile whether or not s/he receives merit of respect from his/her peers, students and administrators. S/he will persevere despite all the odds just to become a leader in his own terms, guided by his/her values and appropriate personal beliefs.
Someone asked me, am I an excellent Filipino educator?
Yes I am an excellent Filipino educational leader. Aside from my mastery of the subject, I am highly creative in terms of construction of learning materials, audiovisual strategies and purposeful practical activities. My expertise were brought about from my exposure to different organizations during my school days, various trainings, workshops, seminars and research that I attended while I am in the teaching profession.
My exposure to different organizations provided me the traits of holding different student organizations from Science Club, Student Council and now the Program for Deaf Learners for a considerable number of years. My principle in manning such organizations is deeply rooted on mutual collaboration with students' needs and how they can benefit from such activities. The interest clubs that I handled pro-actively organized activities and programs that other organizations in our institution adapted primarily for the benefits of their own members. Through my guidance, members and participants were imparted with important skills in leadership, teamwork, knowledge and values necessary in the success of their future endeavor.
Guided by my principles of being committed and dedicated to my profession I can accomplish tasks expected of me with minimal supervision.

From www.paulsadowski.com My Birthdate Facts
Your date of conception was on or about 14 February 1967 which was a Tuesday. (Valentines Day nagdate sina inay at itay, eheheh :))
You were born on a Tuesday
under the astrological sign Scorpio.
You were born in the Chinese year of the Goat.

Your Native American Zodiac sign is Snake; your plant is Thistle.

Celebrities who share your birthday:
Jason and Jeremy London (1972)
Dana Plato (1964)
Keith Lockhart (1959)
Joni Mitchell (1943)
Joan Sutherland (1926)
Al Hirt (1922)
Billy Graham (1918)
Dean Jagger (1903)
Leon Trotsky (1879)
Madame Curie (1867)
Your lucky day is Tuesday.
Your lucky number is 9 & 11.
Your ruling planet(s) is Mars & Pluto.
Your lucky dates are 1st, 10th, 19th, 28th.
Your opposition sign is Taurus. (ngarrr)
Your birth flower is CHRYSANTHEMUM
Your birthstone is Citrine
The Mystical properties of Citrine
Citrine is said to help one connect with Spirit.
Your birth tree is
Walnut Tree, the Passion

Unrelenting, strange and full of contrasts, often egoistic (hindi ha!!!), aggressive (hmmm...be specific heheh), noble, broad horizon, unexpected reactions, spontaneous, unlimited ambition, no flexibility (hell no!!!), difficult and uncommon partner, not always liked (what!!!!) but often admired, ingenious strategist, very jealous and passionate, no compromises.

MY BUCKET LIST
Something morbid about me, i had seen a film entitled The Bucket List and i am also interested to come up with my own lists of things to do before I leave this world, hmmm this are my first entry:
1. See to it that my son finish college
2. Go to US
New York: April 25
Boston: April 28
LA: May 1
Others:
April 15: Hong Kong
April 16: Macau
3. Finish my masters degree
4. Go to the top of the statue of liberty (malapit na din hehehe)
5. Finish doctoral degree
6. Kiss Diana Zubiri and Scarlett Johanssen
7. Inspire my students to become:
Doctors Teachers
5 18 <--- so far... ^.^
8. Be one of the audience in Oprah
9. Publish a book
10. Visit Rome's Coliseum
11. Own a house